JTS Farmstore strives to be the Leader in irrigation technology and solutions in Southern Idaho.
JTS is recognized for it's excellence, outstanding service, innovative designs and continual education in our industry.
JTS is committed to Providing a Full Line of High Quality Agricultural Products and Support to Our Customers.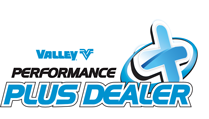 With products that set the standard for innovation and quality, Valley Irrigation is the technology leader in precision irrigation worldwide.

For more than 50 years, Valley has developed products based on a vision of merging advanced technology with high functionality in order to meet customer needs.

Today, Valley offers a wide range of products that meets the demanding needs of precision agriculture.
Latest News & Updates

JTS Farmstore has used pipe and wheel lines for sale.
Call JTS Farmstore today to schedule your Off Season Preventative Maintenance.





Irrigation.Education
irrigation.education is an interactive, easy-to-use online resource that shares with you the best practices on farm irrigation from industry leaders.
http://www.irrigation.education/home